Complaints
International Board of Certified Athletic Therapists (IBCAT) is responsible for investigating complaints made against athletic therapists and, when necessary, disciplining athletic therapists found to be incompetent or guilty of professional misconduct. Mechanisms also exist for dealing with athletic therapists who are incapacitated.
If you have a complaint:
If you have a concern please write a letter to IBCAT outlining your concerns. Complaints must be filed in writing. Complaints via e-mail are not acceptable.
Complaints should include: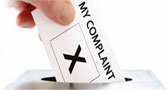 Your name and address (so that IBCAT can contact you for verification and authorization to proceed);
The name of the athletic therapist;
Details of the incident about which you are complaining. If possible, information such as the date and time of the occurrence and names of any other person(s) who may be involved or witnessed the event,is helpful.
Keep a copy of the complaint for your records and forward the original to IBCAT.
Patients & clients can raise a variety of complaints. Among the complaints patients can raise are:
Verbal, physical, psychological, emotional or sexual abuse;
Failing to seek consent for treatment;
Failing to maintain the standard of practice expected of members of the athletic therapy profession;
Discontinuing needed care without arranging for alternative services;
Giving out information about a patient without the patient's consent;
Failing to advise a patient to consult another health professional when the athletic therapist knows the patient's condition is beyond his/her scope of practice or competence;
Failing to advise about the fee structure prior to treatment;
Misleading advertising;
Providing unnecessary services;
Practising athletic therapy while incapacitated or impaired.